Insight:
With a strong cult-following, the sweet, chewy HI-CHEW candy represents a lifestyle characterized by fun and creativity. This treat is not as familiar in the mass market, so it's time to invite everybody else to take their first bite — and fall in love with the extraordinary.
SERVICES
Creative Strategy
Concept & Campaign Design
Content & Storytelling
Design & Copy Production
Integrated Campaigns
Commercial Production
Video & Photography
Idea:
HI-CHEW chewers are a vibrant community that are obsessed with this candy, and the energy is contagious. We wanted to extend this energy to invite others in — creating awareness in the mass market, while honoring the cult-following and elevating brand perception.
Leaning into the bright colors, bold flavors, and GenZ audience insights, we personified each HI-CHEW flavor to demonstrate how one individual deciding to "choose different" can have a ripple effect of fun and creativity that makes the world around them sweeter.
These videos feature subtle nods to change and transformation. While butterflies dance across monochromatic visuals and custom music, a series of vibrant photography and fun videos celebrates individuality and inspires energy, begging the question 'Why choose ordinary, when you can have extraordinary?'
'Choose Different, Choose Fun, Chew HI-CHEW" became the tagline in every communication, reinforcing both brand values and name recognition.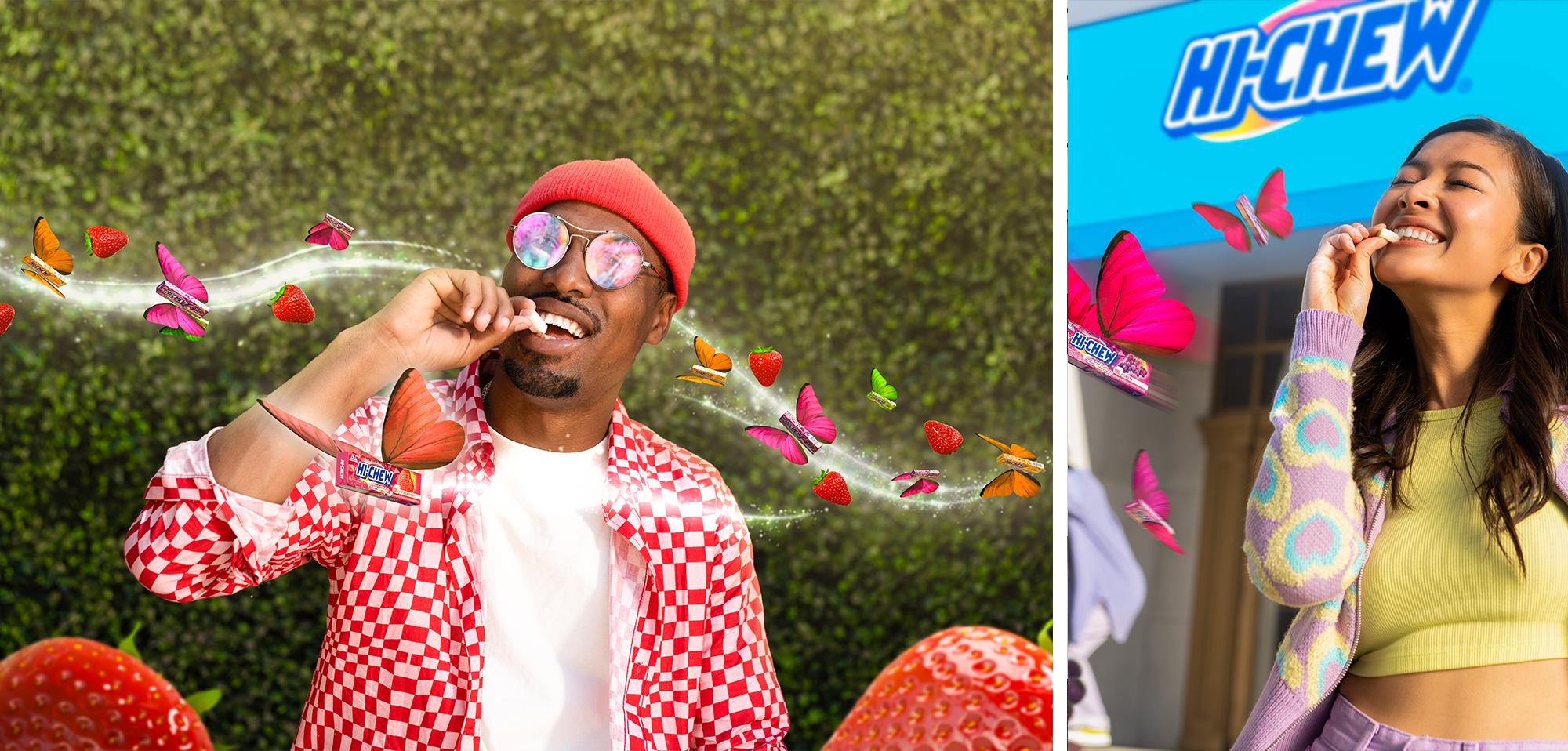 Impact:
Not only do fans love the vibrant colors and sweet flavors, but the team at HI-CHEW also fell more in love with the product they are marketing. Joanne Hsu, senior brand marketing manager at Morinaga America, Inc., maker of HI-CHEW, said "Our newest digital commercial allows our Chew Crew, HI-CHEW's most dedicated fans, and new fans, to experience the pixel-perfect symphony of innovative flavors and interactive visuals that our brand is known for."
Let's Get to Work
Fields marked with * are required