20:20 Vision for 2020
Marketing Trends You Need to Know
The past ten years have transformed the way we interact with the brands around us. From companies like Instagram, founded in 2010, to the new digital data points that allow us to tell targeted brand narratives, the world of marketing and consumer behavior has changed.
Thinking back on the changes over the last 10 years has us asking: What new opportunities await us in 2020?
Today, we are living in a new era of consumer behavior, technology and brand & marketing strategy. As your company looks to the next big game-changer in digital, brand, traditional marketing and beyond, here are some continuing trends to keep in mind as we enter the 2020's.
A Comeback for Market Research
With the rise of digital data, it seemed as though formal market research was becoming a dying art. Marketers were hesitant to spend the time and money on primary research because all the information they could ever want was available via software and online databases. Right?
As of January 1, 2020, companies doing business in California will be required to comply with the California Consumer Privacy Act (CCPA), regarded as the most stringent consumer privacy law in the country. Often compared to Europe's GDPR, and expected to impact business well beyond California's borders, marketers are going to be held to a higher standard when it comes to managing customer data and providing transparency about third party data practices.
Top of mind heading into this year is how marketers are going to comply with regulations such as CCPA while still maintaining access to highly targeted data on their customers. This is where market research comes in. Conducting primary research will not only provide brands will highly customizable data sets, but also ensure that marketers are gathering and using data responsibly.

A Fresh Look at Brand Culture
When a brand is thoughtfully created and strategically supported, it can be felt throughout an entire organization. In 2019, we all had eyes on immersive, or experiential brands – moving into 2020, internal branding and brand culture will retake center stage. 
Brand culture is an organization's internally-facing experience, values, and a strategic branded foundation that creates a consistent company environment; this enables employees to feel part of a larger team and to deliver on the externally-facing brand promise with conviction.
With recent unemployment rates dropping to record lows, we have seen companies boosting their retention efforts and adding amenities to the workplace to ensure employees stay put in the midst of ample job opportunities. 
However, brand culture is not the same thing as a foosball table in the breakroom. It's a careful consideration of the type of experience you deliver to employees; defining your values and the way your company is unique so that employees can project that experience to everyone who encounters the brand. This is a fundamental shift in how brand strategists will approach developing a brand's positioning platforms and messaging strategies – it has to start from the inside out. 
A Focus on Less Polished Content
Yes, you read that right.
 To clarify – less polished doesn't translate to poor quality. "Less polished" means branded content that adds value to the consumer experience beyond selling them something. It is authentic to the user experience, and appropriate for the medium in which it's being received.
With thriving organic content platforms like Instagram Stories (500 Million DAU), Snapchat making a comeback (7 million new DAU in 2019), and TikTok being the most downloaded app in Q1 2019 (1 billion views daily) – there is one commonality between them: organic, user-generated, short-form content. Using this as an example, we expect to see more brands creating content that blends with this style, instead of disrupting it. 
You can see this happening more and more on your own social media feeds. As users have adjusted to paid content, they begin to ignore the polished posts they can easily separate from their feeds. Brands hit back with consumer-created ads and edgier campaigns that engage people as equals rather than targets.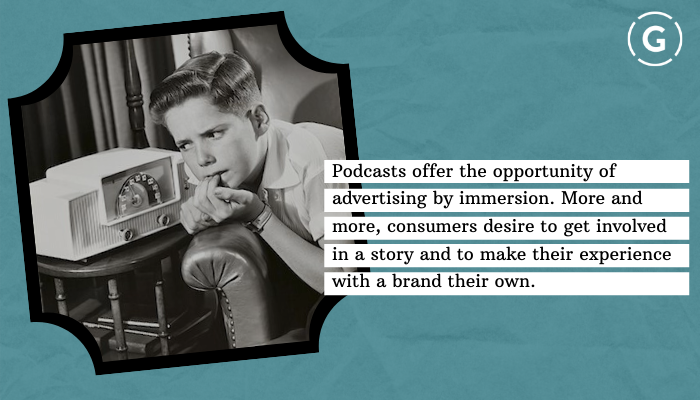 Increased Adoption of Long-Form Audio
As a society, we have been shaped by digital mediums to absorb content in bite-size pieces, not as a narrative. However, in the past few years, we have watched the pendulum swing as consumers return to craving long-form storytelling. Yes – we are talking about podcasts.
According to October 2019 market predictions, podcasts will be the next $1 billion media market. More publishers will build out their own podcasts to open a new revenue stream and advertisers will continue to increase spend.
The data shows that U.S. consumers spend more than three hours per week listening to audio content. When breaking down the demographics, podcast listeners are 45% more likely to have more than $250,000 in household income. Moving into 2020, marketers will want to get in front of these consumers (and their disposable income), and publishers will want to deliver their content in new ways.
Podcasts offer the opportunity of advertising by immersion. More and more, consumers desire to get involved in a story and to make their experience with a brand their own. Long-form audio allows for parasocial interaction – whereby the host of the podcast captures the trust of the consumer as if he or she were a friend in your car. This is the potential power of podcasting making it something not to ignore for 2020. 
Enter the Age of the Streaming Wars
Welcome to the streaming wars. Disney+, HBO, Apple TV+, the list goes on. The global on-demand streaming market size is anticipated to reach USD 124.57 Billion by 2025, according to a new report by Grand View Research, Inc.
The streaming wars will lead to a race to the bottom as the giants will have to compete on price as consumers become exhausted by the sheer number of subscriptions they have to purchase to view their favorite shows or movies. This means that advertisers need to get smart and find a way to quiet the digital noise of their OTT advertising.
Creative experimentation with ad placement and format is the future for streaming advertising; one example being ads that display on Hulu and AT&T only when a viewer pauses a series. Another example would be episodic narrative-based ads, pushing ad content to be more entertainment than sales-pitch. One thing we do know is that the answers to TV's ad future surely won't be found in the past. The way that viewers consume their TV content is changing and our ads need to keep pace.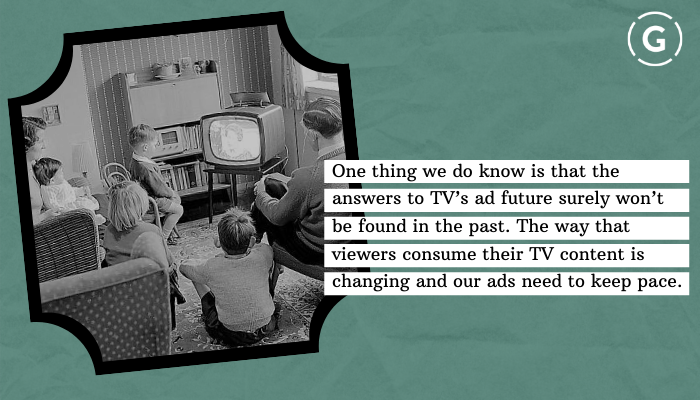 At the End of the Decade…
As consumers become accustomed to this new era of media, marketers must be eager and willing to adapt. Gen Z–who have grown up with cell phones in their hands and increasingly integrated technology–are also entering the purchasing demographic, which means smarter and savvier target audiences. 
What's not changing? People are still looking for honesty and humanity within the brands they engage with. They want to feel considered, seen, and connected to, rather than on the receiving-end of stalker-level bombardment. 
With the last decade dominated by "digital", many brands seem to have forgotten that their audiences, are and will always be human. So as the 2020s fast approach, remember to be real, be intentional, and be discreet in the ways you bring your brand to market.
Want to learn more about the future of marketing? Stay ahead of the curve and download the Top 4 Digital Marketing Trends for 2020 below:
Download the Complete Guide
Sources:
https://www.statista.com/statistics/730315/instagram-stories-dau/ 
https://www.iab.com/wp-content/uploads/2019/06/Full-Year-2018-IAB-Podcast-Ad-Rev-Study_6.03.19_vFinal.pdf
https://www.forbes.com/sites/allbusiness/2019/09/07/california-consumer-privacy-act-could-affect-your-business/#de015f236ac6
https://www.grandviewresearch.com/press-release/global-video-streaming-market