How do you create a true connection with a brand? In an age of data-driven marketing, many marketers struggle with ways to drive brand loyalty. With our latest ad for 3 Day Blinds, a combination of data-driven decisions and heartfelt storytelling led to a successful marketing effort that is helping to drive conversions.
A Proven Market Leader
Many know 3 Day Blinds as a California original that has evolved from modest roots to become a leading manufacturer and seller of custom window treatment solutions. With more than 40 years of experience, they have built a brand that represents high-quality, customized offerings, and an authentic commitment to their customers.
Despite an incredibly competitive and fragmented marketplace, 3 Day Blinds has seen decades of growth and market dominance in part because of its culture of innovation. It's drive to know its customers, test ideas, and offer a premium service has led to continued expansion across the country.
Now, in its next phase of innovation, 3 Day Blinds reached out to Gigasavvy for a new approach to its advertising.
A Sea of Sameness
In today's world of performance marketing, a preference for direct-response tactics leads to repetitive, undifferentiated advertising. Many of these ads – including those in the home improvement space – recite a laundry list of features and benefits, followed by a phone number that you can "call today!" These ads are great for educating consumers, but typically don't inspire brand loyalty.
In the past, 3 Day Blinds relied on this style of direct-response advertising that focused on the features of their products, the wide range of options they offer, and their well-regarded in-person consultation program. The ads work, but 3 Day Blinds is a brand that continually seeks to push its success to the next level.
In order to stand out in a cluttered marketplace, 3 Day Blinds and Gigasavvy sought to create a campaign that would go against the typical direct-response style. Instead, we would try to inspire growth by creating a close emotional connection that would allow us to stay top-of-mind if – and when – homeowners need to update their window treatments.
But before diving headfirst into pursuing this approach, we needed to make sure it was right for the brand. That's where data and market research came into play.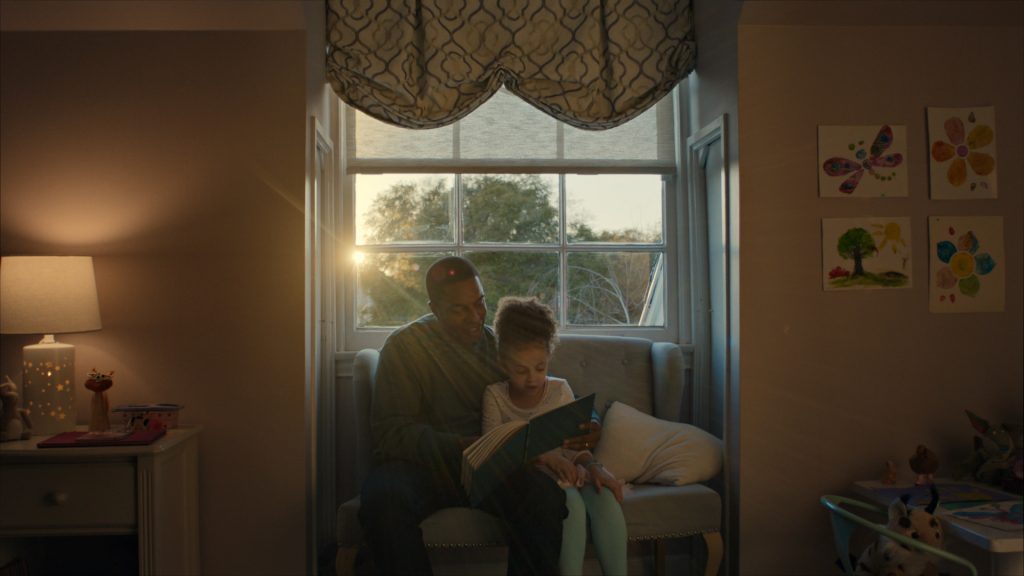 Data-driven, Human-centric Marketing
Data is a keyword used across industries in 2020, and rightly so. In the digital economy, the companies making the most of their data routinely outperform their rivals.
Still, amassing data is the easier half of the modern marketing equation. The real trick is separating the signal from the noise: identifying which datasets are valuable, extracting meaningful business insights from them, and strategically leveraging those assets.
Data is merely a means to an end. An instrument for measuring things that resist quantification, like personal engagement, emotional connection, and even ineffable human values and truths. Gigasavvy is built around the idea that contemporary marketing is an inherently cross-disciplinary pursuit, one that requires a mastery of both art and science.
Creative brilliance that isn't vetted by data and narrowly tailored to achieve measurable outcomes is obsolete. Likewise, dogmatic adherence to raw numbers without any consideration for the flesh and blood behind them is equally unproductive. Finding the balance between these two concepts is the only proven pathway to greater performance.
The modern consumer is more sophisticated, better informed, and, yes, slightly more jaded than their predecessors. Today, hard selling and information overload are instant turn-offs. It takes a more nuanced approach — one that connects organically to your target audience — to generate lasting brand affinity, customer loyalty, and increased sales.
Performance marketing is a holistic endeavor. It's more than picking the right demographic, channel, and ad spend — those are merely prerequisites, things that you have to get right before tackling the harder challenge of forming real and durable human connections. You can generate short-term results with just the bare fundamentals, but the returns will inevitably diminish without ongoing, creative agency investment in the brand and its content and messaging.
The Art of Pressure-Testing Creativity
You can't connect with people if you don't understand them. That's why step one at Gigasavvy is always rigorous data collection and market research to find out exactly who the target audience is, how they see the world, what they value, and what sets their hearts and minds in motion.
Yet, as we've established, research, investigation, analysis, and statistical interpretation will only take you so far. Creative output can only be informed by data, not determined by it.
It's through reading between the lines of data that we can parse out the true value of the numbers. Loyalty and emotional connection are highly subjective; the magic of successful campaigns comes from the stories that the data isn't telling.
Seeking to increase bookings for their design guidance offering, we developed two very different concepts, one focused on humor and one more emotional and heartfelt. Our ultimate goal was to see how consumers would react: Would one ad resonate better? What would consumers have to say about either concept? And most importantly, did the stories communicate the right emotions and features?
Both spots were tested among the target market, and both received overwhelmingly positive and constructive feedback. The heartfelt version of the ad garnered the highest marks for consideration, the reaction we were hoping for. Not only was the spot well-liked, but consumers were able to parse out complex features and benefits that were never explicitly mentioned in the script.
That feedback helped us refine the scripts and storyboards to maximize the number of potential customers we could connect strongly with.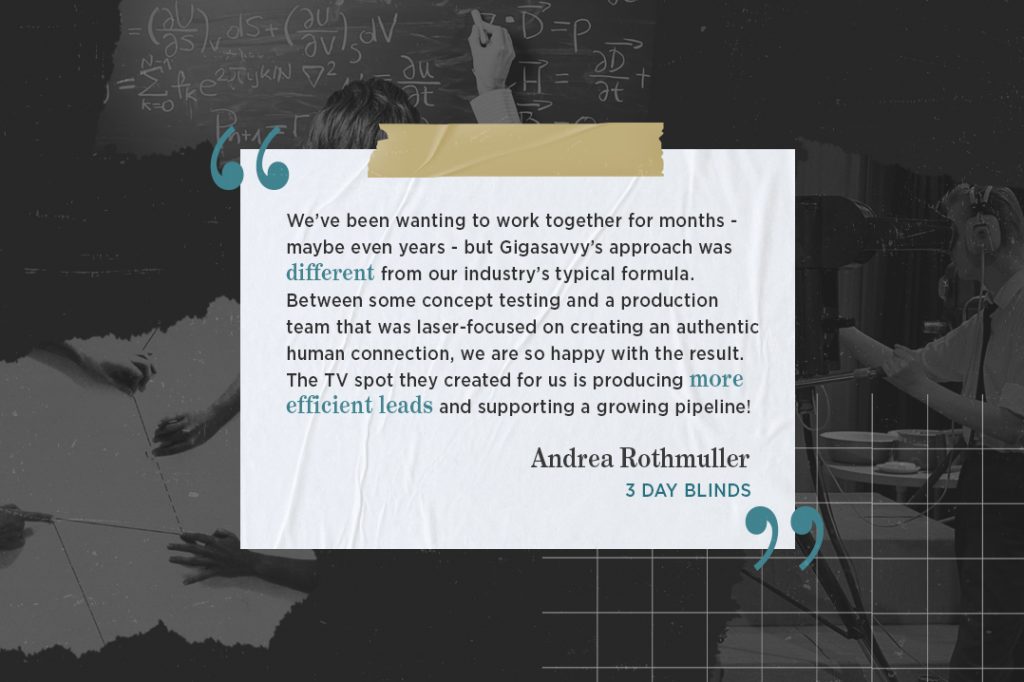 The Audience Reaction
The finished product subtly highlighted the durability, beauty, and variety of 3 Day Blinds' products. It was filmed on location in a lovely home that showcases window coverings as a backdrop to family life — which also tied nicely into the reality that most of 3 Day Blinds' customers are now doing their shopping from home, too.
The public response and the return on marketing investment we achieved for 3 Day Blinds has been incredibly gratifying. The quantity and quality of their leads immediately jumped following the launch of the ads.
Gigasavvy has long invested in the tools and expertise, as well as the mindset, that enables these results. By synergistically augmenting our creative powers with the latest analytical methodologies, we are helping brands like 3 Day Blinds boost their bottom line while making deep and lasting connections to the customers they value most.