Some people may have hit pause on this past year, but the team at Gigasavvy showed no signs of slowing down. As you may know, we like a good challenge, so it should come as no surprise that when the opportunity presented itself, the Gigasavvy team was chomping at the bit to get in some quality adventuring.  From the West Coast to the East Coast, we packed up our cars, hopped on a few planes, and clocked some serious miles across the American wilderness. Here's a glimpse into a few of our journeys.
Afton Scheinfeld – Brand Strategist
Leading us off is Afton Scheinfeld, who joined Gigasavvy's strategy team after 12 years with the LA Dodgers. Go Dodgers!  Afton and her husband Nathan love road trips and this past August they hit the road with their dog Cali for a belated anniversary trip. Their destination – Zion and Bryce Canyon National Parks. 
Zion and Bryce Canyon National Parks: We left early in the morning to avoid the crowds – the sunlight hitting the canyon was breathtaking. We're still reeling from hiking the Narrows in Zion!
The drive from Zion to Bryce Canyon was an adventure in itself. Hiking the Navajo Trail in Bryce Canyon felt like we were frolicking in a fairytale land among the impressive hoodoos and evergreens.
Every part of the journey seemed to get better.  This road trip was a welcome escape from covid lockdowns and I can't wait to return!
Pro Tip: Size up on your boot rentals. I ended up with a toe injury after our 6hr hike!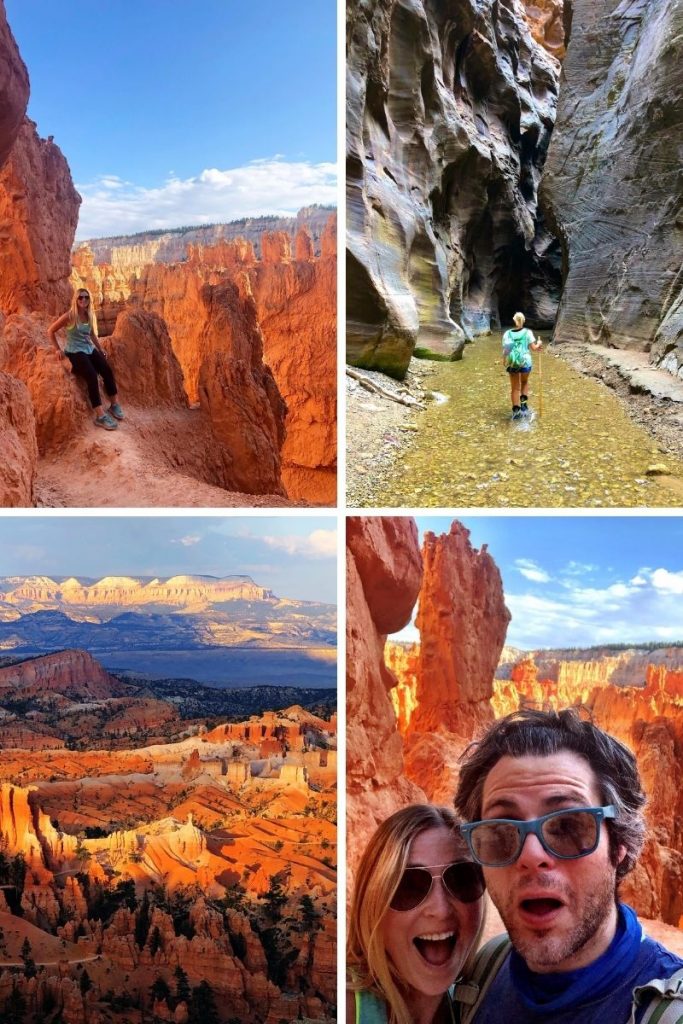 Angie Guevara – Sr. Media Strategist
If you know Angie, then you know that nothing is going to stop her from fulfilling her mission to set foot in every single national park, not even a global pandemic! Over the past year, she's checked quite a few of them off her bucket list. Here some of her favorites. 
Glacier National Park: Being outdoors with nature, experiencing glaciers for the first time ever was epic!
Ice Castles in New Hampshire: The ice castles were so cool that I even loved being at -27 degrees for the first time ever!
Acadia National Park: Let me introduce You to Cadillac Mountain in Acadia National Park in Maine. This mountain peak is the first place in the US territory to get sunlight in the morning. A must-visit! And, if you ever visit the park but don't have enough time to see it all, I highly recommend you fly over it – For $99 you get a 25 min flight and can see it all!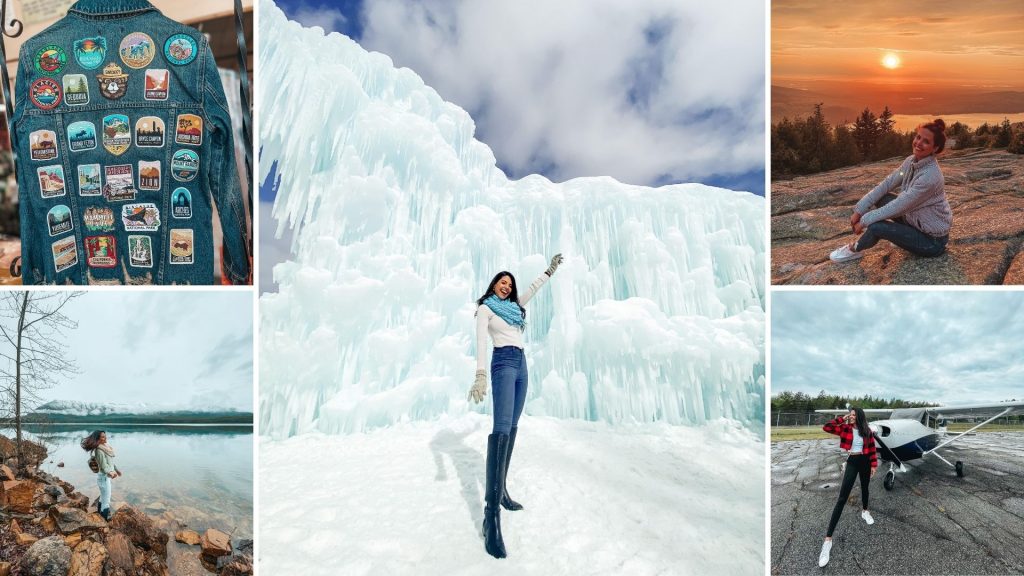 Brittany Davis – Designer
Brittany is one of those people that radiates calm. She's always rocking a smile that puts you at ease no matter the number of design projects on her plate or the seemingly impossible deadlines facing her. And the hero graphic she designed for this blog – doesn't it just make you want to go on an adventure! 
Mammoth Lakes: One of my best friends from college moved up to Mammoth a couple of years ago, and my friend Jenna and I try to get up there every so often to see her. This year was my first time in Mammoth during the winter and it was magical. The best part of the trip was waking up early to watch the sunrise from a hot spring. We were the only ones in the area, and it was incredible to watch the world wake up around us!
Big Sur / Carmel: My mom, sister, and I have always wanted to do a 'girls trip', and quarantine gave us the opportunity to do exactly that. So in June, we decided to drive from Riverside up to San Luis Obispo, and then along the coast through Big Sur, all the way up to Carmel! The whole drive was incredibly beautiful, and it was so cool to be able to make small stops along the way, to find a cute little spot for a meal or take in the view!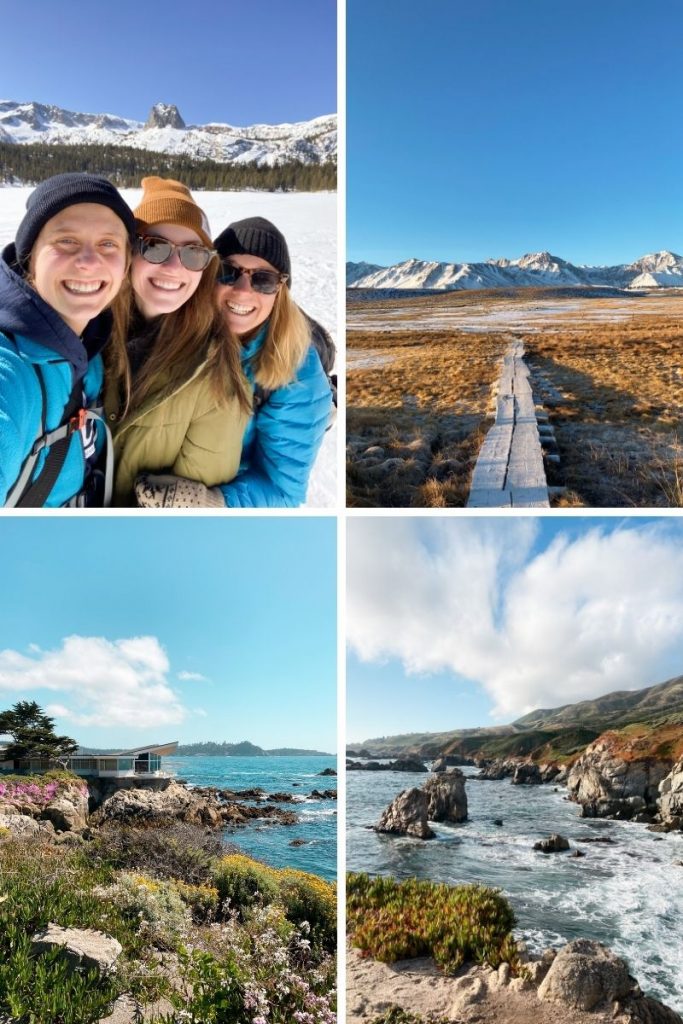 Daniel Reizes – Marketing Director
A 600 square foot beach cottage with two people working remotely and an energetic rescue pup proved to be quite the challenge. Never one to shy away from an adventure Daniel and his wife Samantha reached out to all their friends and scoured the internet for house swaps in search of a remote working environment more suitable to the current state of the world. With their dog Frankie in tow, they packed up their car and made their way all over the country with stops in Portland, Sundance, Lake Tahoe, Sedona, Santa Fe, and the Jersey Shore.
Sundance: Utah is one of the most beautiful states in the country. The diverse landscape there has something for everyone. On this trip, we got a house at Robert Redford's famous Sundance with our cousin Jordan and her new pup Summit. We hiked some incredible trails, took in the fall foliage, and even had separate rooms with desks to get our work done in peace and quiet.
Sedona / Santa Fe: Mystical and magical is all I can say. Blue skies, red rocks, fresh air, incredible hikes out the front door, and almost no one in sight made this road trip one of the best yet. Santa Fe was a real stand out and Frankie fell in love with the snow. She seriously couldn't get enough! There is a special energy in both of these places that will surely keep us going back for more.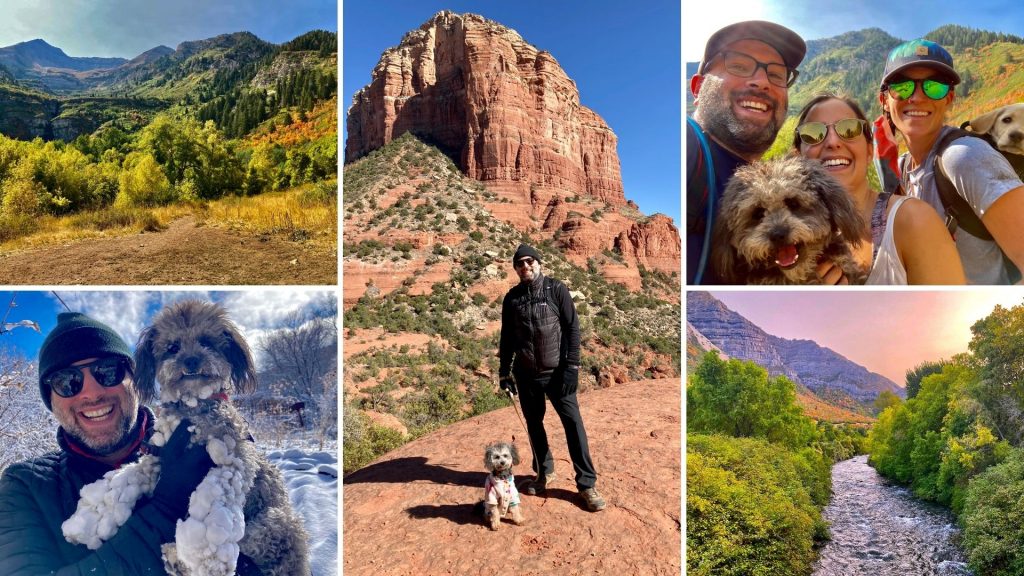 Emily Jones – Sr. Account Manager
While most of us sport sweatpants and hoodies on our morning zoom calls, Emily seemingly just walked off a photo shoot, clever joke in hand, making us all jealous of her effortless style and sense of humor. And if you were wondering, yea she did just crush a bunch of gamers at their best game while blasting K-Pop and solving a myriad of impossible client challenges leaving you with one question to which the answer is undoubtedly: Yes, Hermione-Granger is indeed based on our very own Emily Jones! So what does she do in her free time?
Wine Country – Los Olivos & Los Alamos: Three of my best friends – Alyson, Erica, and Mia planned this trip months in advance, hoping the world would be in a safer place to allow us a nice road trip and escape…or at least drink wine somewhere other than our living rooms. These girls are my ride or dies, especially during quarantine. It was wonderful to be able to take some time off together, move at a slower pace, explore new places, and enjoy so many good wines! Our favorite winery was Liquid Farms.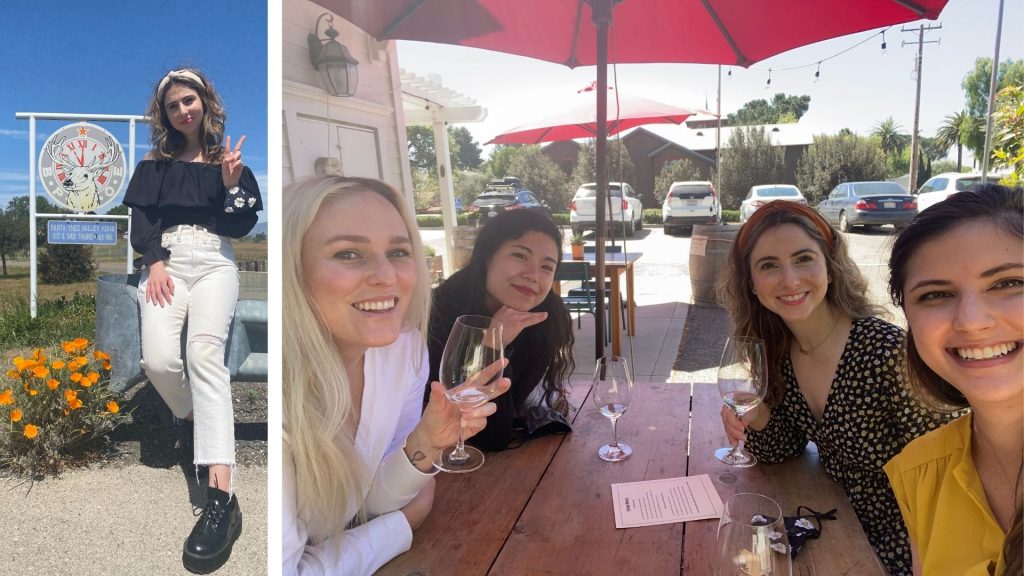 Kyle Johnston – President & Co-Founder
After years of tirelessly growing and shaping Gigasavvy into the creative agency it is today, the silver lining of the year was the time Kyle got to spend with family. With late nights at the office and a rigorous travel schedule on hold, Kyle finally had a moment to breathe, take stock of what we'd achieved as an agency, and thoughtfully plan our future. One of the biggest changes on the horizon was making a move to Boise, expanding our footprint beyond Southern California. Check out Kyle's latest adventures as he makes Idaho home.
Payette River: Now that we're getting settled in Idaho was time for a family trip into the woods. We had an amazing view of the Payette River from our cabin, played tons of card games with the fire going, and had a blast crashing into each other at the ice bumper car track.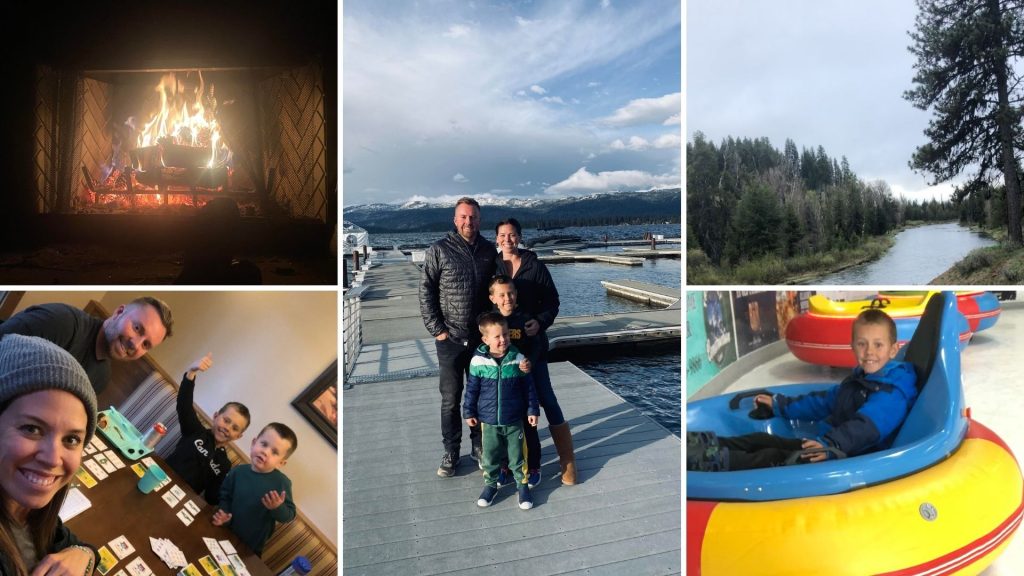 Tyler Oslie – Sr. Art Director
Tyler's high-energy, high-impact campaigns are matched only by the nature of the man himself. At peace when pushing himself to the limit on the trails, Tyler opted for a solo mission. And pure adventure it was. His photos are spectacular, but make sure you watch the video highlights!
Sedona / Zion National Park: This was originally planned as a mountain biking trip but I fractured my hand (mountain biking) just weeks before. I was on the fence but decided to go anyway. I'm really glad I decided to go for it because I managed to pack in 10 hikes and 30+ miles of amazing scenery and places I had only heard about and was able to really reflect out in nature.
Hiking up to Angel's Landing in the dark was incredible. The wind was crazy and I was all alone on the chain section, but somehow it was very calming and I knew I was doing something I'd never forget.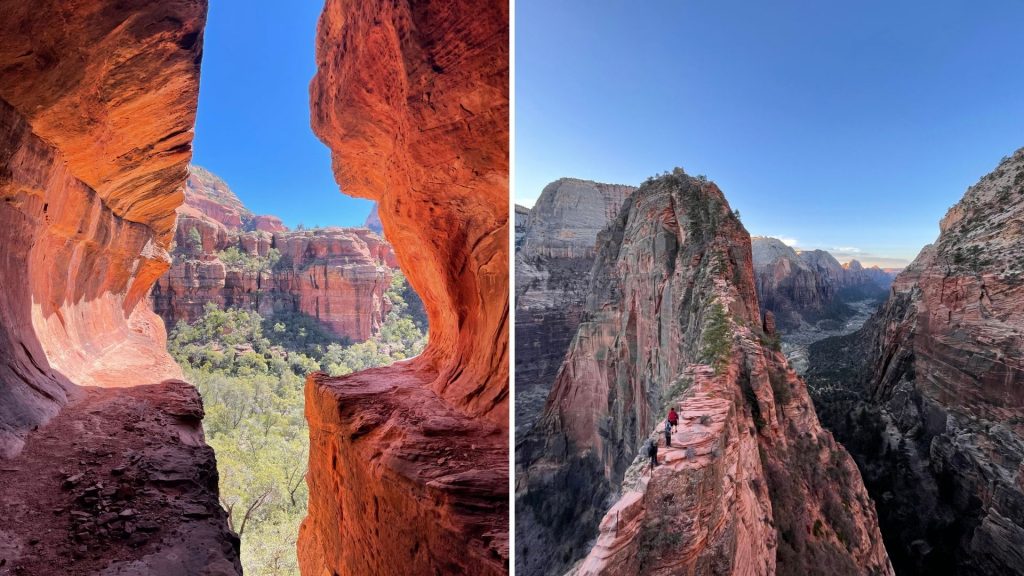 Do you need to breathe some life into your brand? Perhaps you're in search of a creative agency that produces campaigns that deliver excitement and emotional connections. We're looking for adventurous marketers and brands who lead with purpose and aren't afraid to leave their mark. Give us a call if that sounds like you!