Putting out a great product, at the right price, with a strong message isn't enough to break through the noise any longer. 
In today's incredibly competitive and diverse business ecosystem, where virtually every conceivable product and service is never more than a few clicks and keystrokes away, brands have to do more.
They have to create experiences that capture attention, delight and educate their fans, and leave lasting memories that help instill positive brand associations in the minds of customers.
Experience Is a Teacher
The brand experience is the culmination of a variety of touchpoints: websites, stores, social media channels, promotions, loyalty programs, events, and more. Everything the brand says and does is an opportunity to evoke a sensory response in its audience, which in turn has the power to generate emotions, analytic thoughts, and even feelings of identification or spiritual connection.
Brand experiences (like all experiences, really) are sensory, we take them in via our senses and filter them through our personal perspectives. Creating an emotional connection to a brand and lasting relationships with customers is impossible without touchpoints that hit on all our major senses.
The key to designing and orchestrating powerful brand experiences is crafting each touchpoint and sensation to maintain consistent — and consistently positive — brand associations.
Think serving cheap instant coffee at a car dealership won't affect the sales process? Think again. Subtle details like that accumulate and the potential customer draws an overarching conclusion that can become ingrained in their mind. Even the smallest factors can be influential. In one case it was shown that conversion rates for a retailer increased by as much as 27-percent when they gave customers the opportunity to virtually examine a product with a spinning 360-degree view.
When feelings and ideas are especially positive and aligned with an individual's own interests and values, the experience helps differentiate the brand from its rivals. That in turn, inspires greater brand loyalty and ultimately increased conversions, which in the case of brands, is often sales but also includes less direct but still vitally important wins like new subscribers to a social channel and new brand advocates and ambassadors.
In fact, a massive 70-percent of business leaders surveyed by Qualtrics, maker of cloud-based experience management solutions, said that building better brand experiences will translate to improved brand awareness and differentiation. Forrester Research shows that boosting those somewhat qualitative metrics, in turn, helps generate more objective measures of brand success like increased revenues.
To harness the full potential of unified brand experiences there are a few terms you'll want to be able to differentiate.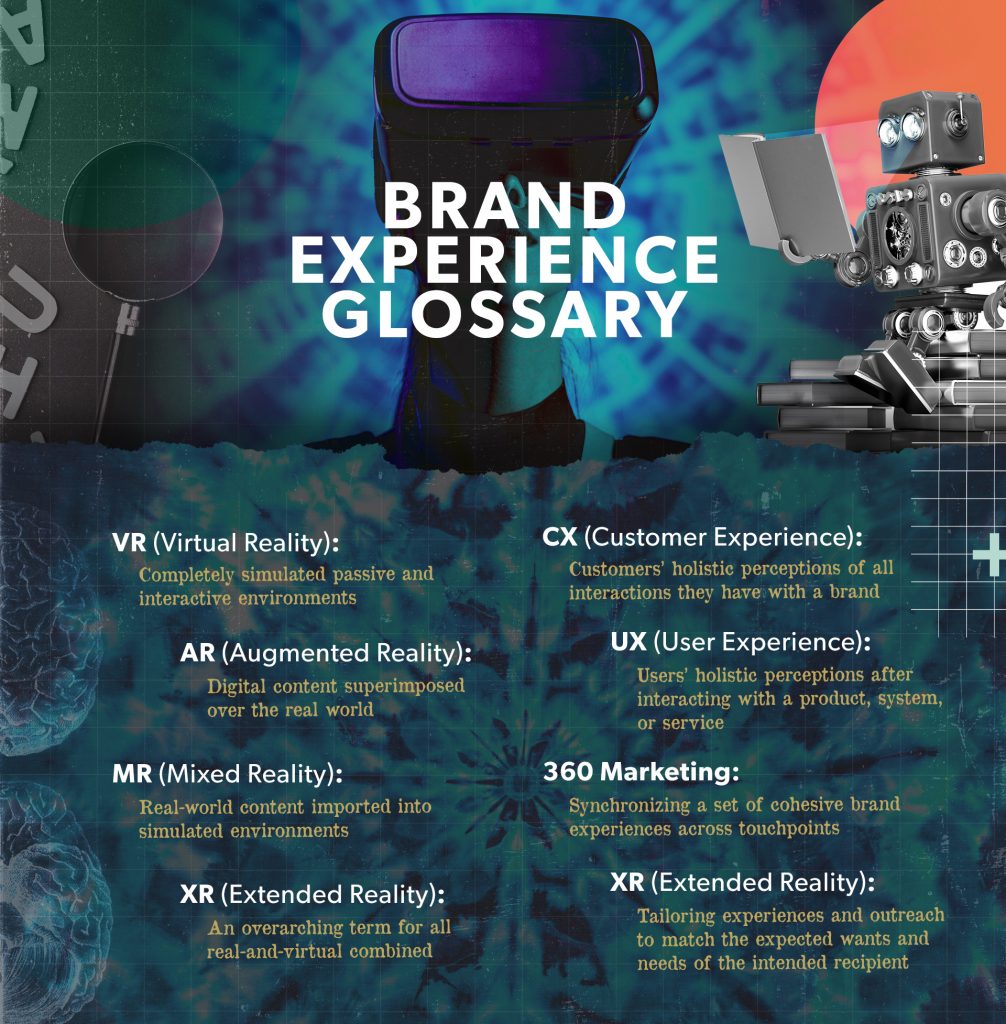 The Tech-enabled Buyer's Journey
Interest in better aligning brand activity to customer preferences and creating memorable brand experiences is a big part of why automation and artificial intelligence are of growing importance for modern marketers. Cool projects like an automated boba tea bar that serves up beverages via robot are enabling novel and exciting experiences at scale.
Another major impetus for the push towards more experiential branding has been demographic shifts. Millennials are famously more inclined to spend on experiences rather than material possessions.
Their younger cohorts in Gen Z, having come of age in troubled economic times, are slightly more focused on saving money but still less interested in conspicuous consumption than older generations like Gen X and the Baby Boomers — and they are more likely to expect a full-fledged experience for their money, regardless of what they are buying.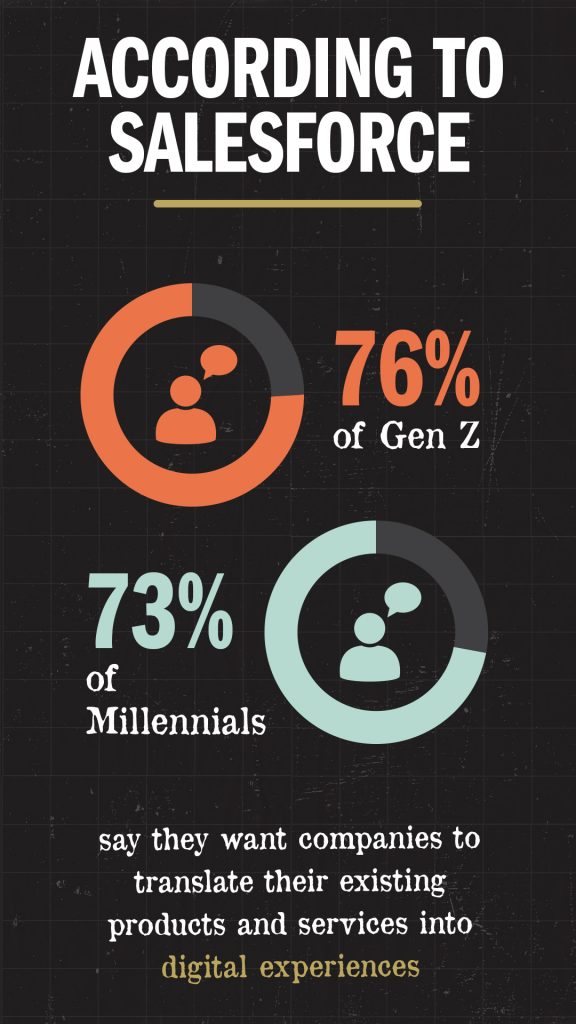 In the aftermath of the pandemic, those shifts in consumer behavior are accelerating. According to Salesforce, 76-percent of Gen Zers and 73-percent of Millennials say they want companies to translate their existing products and services into digital experiences.
Digital experiences like Marriott's Portal to Paradise, an AR app that lets trip planners see what their dream destinations would look like if they were right in front of them. Or, stream platform Twitch's snappy and colorful landing page heralding their rebrand. They know their fans are interested in everything they do and want to hear about the behind-the-scenes in a fun and interactive way.
Five Brands Making Smart Investments in Experiences
In 2021, the brand experience isn't just a component of the customer value proposition, it's a primary driver; failing to deliver unique, memorable, and rewarding experiences can relegate even brands with innovative offerings to irrelevancy.
Here are five brands that have taken that lesson to heart and are instead building experiences that are tailored to their audience and generating positive buzz:
Carolina Herrera 212 Heroes "Forever Young"
What does Carolina Herrera — the octogenarian high fashion designer, famed for dressing First Ladies from Jacqueline Onassis to Michelle Obama — have to do with the gritty, raw world of street skateboarding?
Ok, granted the streets in the new interactive game released on her company's website, 212 Heroes: Forever Young, isn't quite as gritty as the average Tony Hawk Pro Skater level, but it's still got some edge and the game, despite just being a simple three-button web app, is surprisingly fun and polished and comes backed by a hip cover of an 80s hit for the soundtrack. Along with an interactive microsite featuring videos, profiles of brand ambassadors including Pose's incredible, Indya Moore, and a cheeky AR application, the game provides a fun, accessible entry point into the world of Herrera's 212 fragrance.
According to the brand, the vegan fragrance celebrates youth, freedom, and authenticity. And what's a better metaphor for feeling young and free than barreling down a city street, wind in your hair, ollying over cabs — just you, your board, and the city. Authenticity is a desirable trait across brands right now; 212 Heros is a perfect example of a well-tailored brand experience in that it captures the ethos of the product and market it's connected to.
Jack Daniel's Tennessee Honey x Shoe Surgeon
Dominic Ciambrone, better known on Instagram as the Shoe Surgeon, is an expert in finely crafted goods that use classic tools, materials, and techniques. The same can be said of Jack Daniel's, the famed distiller that has been producing its old No.7 brand whisky for over 146 years. So a collaboration between the two was a smart match when Jack Daniel's wanted to share the attention to detail and high level of craftsmanship that goes into its Tennessee Honey liqueur.
They built an interactive 3D experience called Finely Crafted where users can virtually walk around the environment, watch videos, learn about the shoemaking process and the materials used with visual guides, and collect digital 'honey' that gives them a chance to win a drop for an exclusive pair of Tennessee Honey shoes created by Ciambrone.
The experience also helps to highlight both brands' attitudes that the process is as important (and as interesting) as the outcome. When the customer takes that first sip of Tennessee Honey or laces up their bespoke leather kicks, the knowledge that they were produced slowly and carefully by artisan hands that love what they do adds to the experience.
Amazon Salon
As a brand built on technology, Amazon understands that getting ahead of the competition as a new innovation becomes more established is a powerful competitive advantage. It comes as no surprise then, that the etailer has decided to open a brick and mortar hair salon in London.
Taking up 1,500 sq. ft., the Amazon Salon will offer AR hair consultations where customers can virtually see what their new do will like well before the scissors and dye are needed. For those in need of a new look, it's a modern tool for doing an old thing in an improved and interesting way. For Amazon, it's a chance to experiment with the latest technology trends, lead through innovation, and form stronger relationships:
"We want this unique venue to bring us one step closer to customers, and it will be a place where we can collaborate with the industry and test new technologies," said John Boumphrey, the brand's UK Country Manager.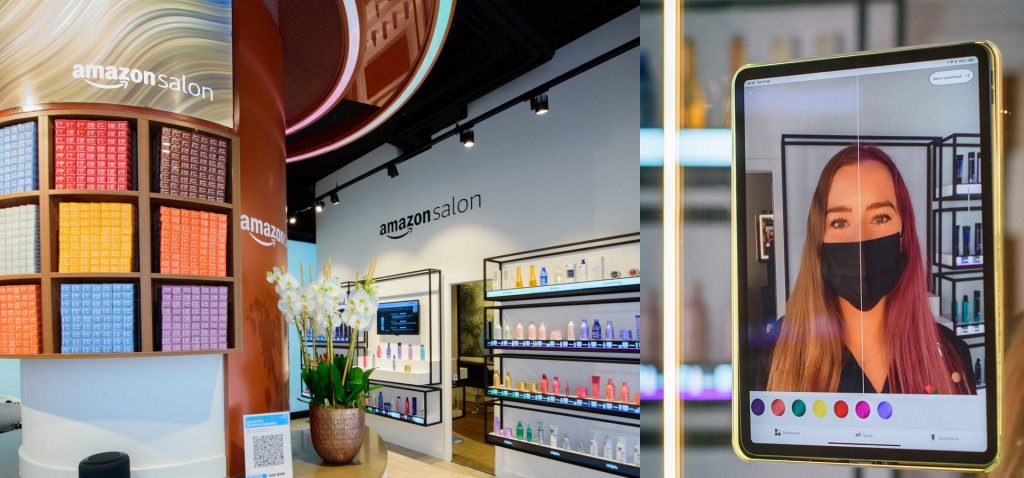 Experience M&M's
M&M's have become so ingrained in our culture that it's easy to forget just how forward-thinking their marketing has been from the beginning. From their incredibly long-lasting tagline "Melts in your mouth, not in your hands," which prompted their first big customer, The U.S. Military, to purchase the candy for soldiers serving in tropical regions during World War I, to their early campaigns from the 1950s that featured anthropomorphic candy characters and cartoonlike storytelling, the Mars company seems to have always had an understanding of just how important making personal, emotional connections were going to be to the longevity of the brand. The M&M voices have been played by the likes of Jon Lovitz, Jon Goodman, and Vanessa Williams.
Today the brand continues to harness the power of experience, putting it front and center as a section on their website dedicated to the brand experiences they've crafted over time. And there's a little something for everyone. You can pick candies based on your mood that come with curated Spotify playlists to set the vibe. Craving something a bit more personalized? They've got you covered there too. Pick your favorite colors, upload a photo or other design, choose your own packaging, and voilà you've just created your very own one-of-a-kind M&M's.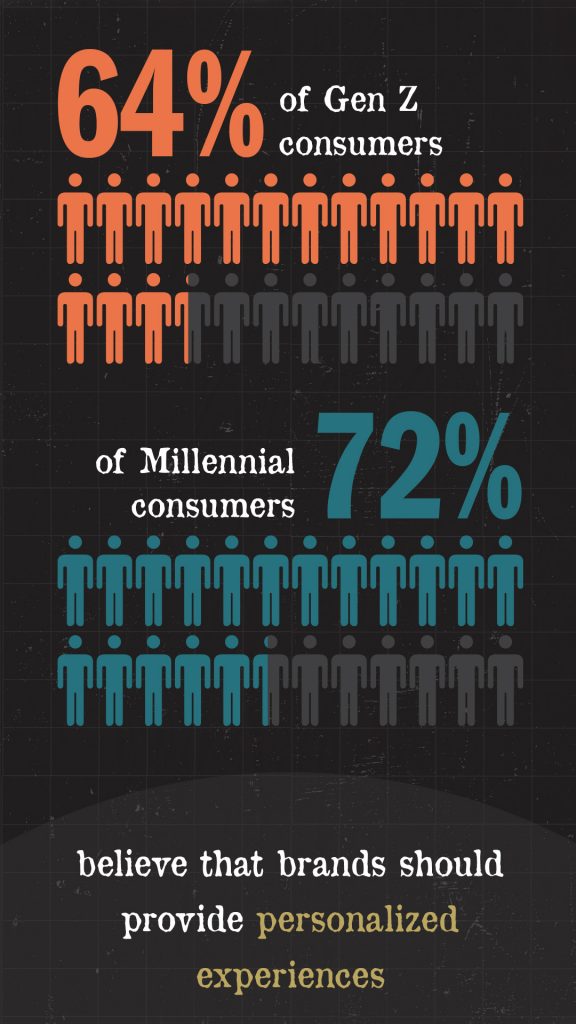 Consumers can even visit major stores virtually, like the recently opened flagship location at the Mall of America, where they can travel through the shop and purchase candy and merchandise as if they were picking those items up right off the shelf. M&M's latest flagship branded retail experience is a 24,000 sq. ft. temple to fun, activity, togetherness, and our shared love of all things chocolate. Chock full of personalization stations, exclusive merchandise, a Wall of Chocolate, and a tour of Peanut Peak with a rooftop lookout, the location pays homage to both the candymaker and the Minnesota home of the Mall of America.
"M&M'S aims to inspire fans to find ways to connect with each other, all while creating better moments and more smiles," said Patrick McIntyre, Director of Global Retail at Mars Retail Group. The new M&M'S Mall of America store champions the fun ways fans can connect with others — and you truly see this come together in the immersive experiences only the M&M'S Mall of America store offers."
Intersect by Lexus
Forrester has been ranking brands on their CX index for many years now, and luxury automaker Lexus is perennially at the top of the list. According to Mike Tripp, the brand's VP of Guest Experience, the key to that accomplishment "…is being crystal clear about your purpose or what you stand for."
Forrester's research backs up that claim; brands with stakeholders that trust, understand, and enjoy the customer experience have customers that are: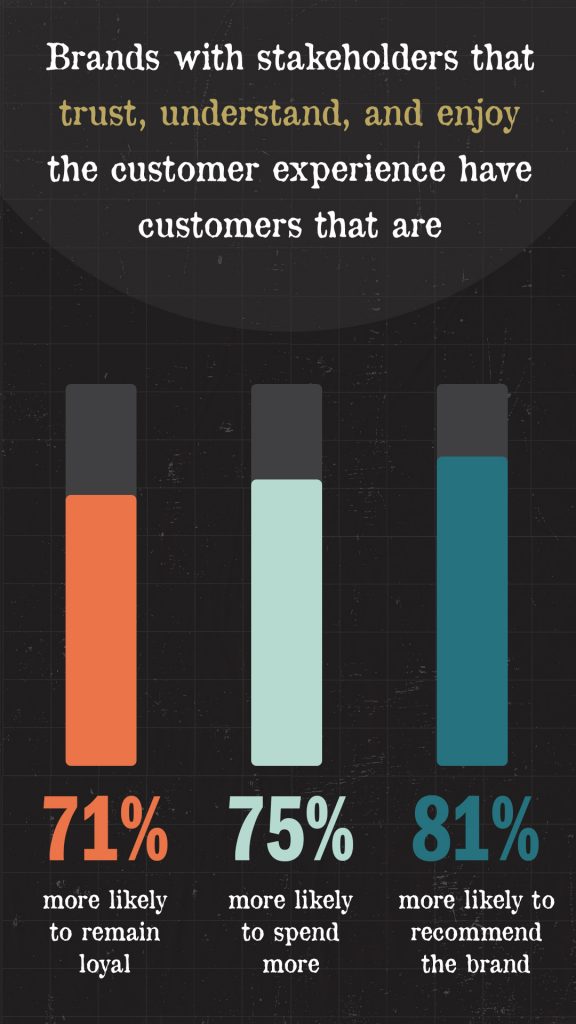 That mindset is powering their recent return to physical retail in New York City. Intersect by Lexus is a newly reopened space in the city's trendy Meatpacking District that serves as a North American hub for delivering branded experiences. But, you won't find any cars there. Instead, visitors are immersed in the Lexus lifestyle: the materials, the smells, the refined taste, and the attention to detail that buyers of luxury goods demand.
While wandering through their thoughtfully curated galleries, coffee shops, fine dining, and retail spaces — all of which are adorned with subtle nods to the brand such as a spindle grille and even a minicar wall — potential Lexus customer's are exposed to the brand, taking it in with all their senses, and primed to form lasting memories and meaningful brand associations.
LACMA x Snapchat: Monumental Perspectives
When it comes to creating integrated experiences that mesh the digital world with the physical, the team at Snap must be included in the conversation. Most people can probably point to the incredibly fun and easy-to-use camera lenses created by Snapchat as their first seamless, enjoyable Augmented Reality experience.
Their latest collaboration with the Los Angeles County Museum of Art builds on the pioneering, shared augmented reality experiences developed for their Landmarkers, Local Lenses, and City Painter technologies and adds an element of social responsibility into the mix to take their community-building efforts to the next level.
Funded in part by a generous grant from the Andrew W. Mellon Foundation, which aims to transform the way our country's histories are told in public spaces, Monumental Perspectives brings together 5 innovative artists to create site-specific augmented reality monuments and murals across the city in celebration of LA's diverse, communities, histories, and perspectives.
In 2021, It Takes More to Stay Top of Mind
The days of lifelong brand loyalty are, sadly, long done.
Today, options abound, switching costs have never been lower, and consumer attention is incredibly difficult to grab and hold. Brands that hope to not just compete but thrive under these conditions have to be more than a good option. They have to create meaningful experiences that connect with their core mission, align with their customers' preferences and values, and create positive memories that stay with their fans long after the experience has ended.
There is a reason brands like Heineken were early adopters to marketing at music concerts and festivals. They understand that experiences filled with powerful sights and sounds stick with people, and they want their name and logo connected to those happy memories. The pandemic may have put a temporary pause on the next amazing branded beer garden at Coachella, but without question, they will be back.
The return on investment for smart, branded experiences is too appealing, and the cost of missing out is too high.
Gigasavvy offers brand strategy consultancy which is able to create incredible, memorable, unique, brand-boosting experiences on and offline. Contact us to learn how we can help your brand create positive memories that connect and influence.