Consumer priorities have shifted, and sustainable and renewable products and brands are in high demand.
On the 51st anniversary of Earth Day, organizations all over are taking a moment to reconsider their impact on the planet and make pledges to do better.
Some are doing it because protecting our natural resources for future generations is simply the ethical choice. But there are also very powerful economic motivations for changing the status quo from wasteful and polluting supply chains and business models to those that are far more environmentally friendly and which can be endlessly renewed.
The current marketplace puts a premium on brands that are sustainable and there is a growing distrust of those that are silent on these issues, which is why so many brands are finally speaking up about their commitment to a healthier planet. And what better time than Earth Day to let the public know about it?
Here are five brands that are trending for their sustainability initiatives:
Improved PS5 Packaging
Aided by a pandemic that forced the world into lockdown, Sony's latest gaming console, the PS5, is the fastest-selling in history. So, the Japanese electronics giant doesn't really need to make any changes to improve sales.
They can hardly keep up with demand as it is. Yet, after hearing complaints that the packaging for the PS5 was unattractive and generated way too much non-recyclable waste, Sony went back to the drawing board.
Kieren Mayers, Sony's Director of Environment & Technical Compliance, described the initiative as part of the company's Green Management 2025, an ambitious project attempting to decrease the use of non-recyclable materials in Sony's products. As part of the plan, they hope to completely eliminate plastic in new product packaging by 2025.
The original packaging for the PS5 wasn't living up to the ideals of their mission, but the redesign is a much more positive step in that direction. The new packaging is fully recyclable, 93-99-percent plastic-free (by weight), and replaces polystyrene foam with cardboard inserts. They also relied on the Japanese art of origami as inspiration for substituting smartly engineered paper folds rather than unsustainable glues.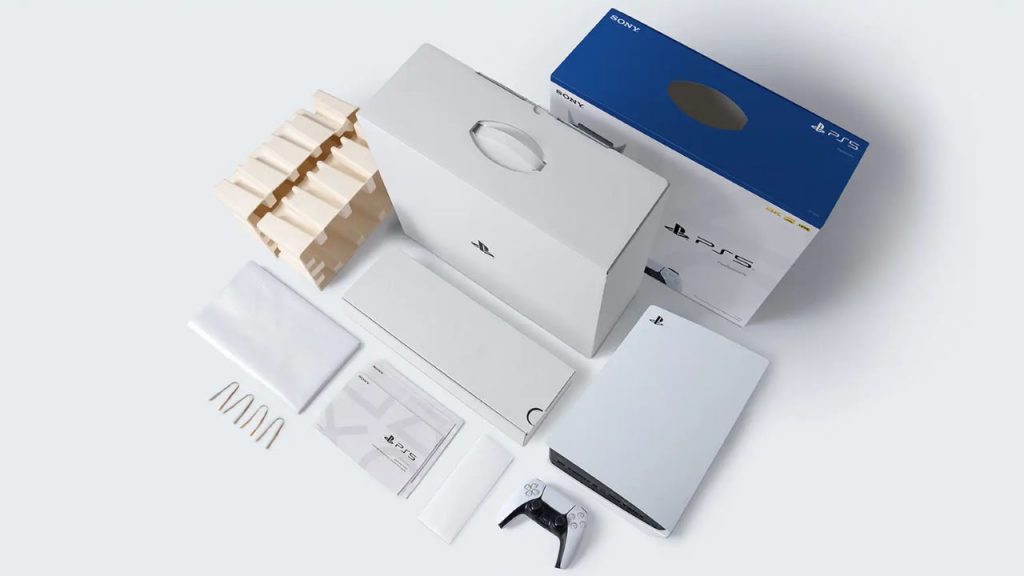 Cleancult Reusable Cleaning Supplies
Video games weren't the only products to see increased demand during the pandemic. Sales of cleaning supplies also spiked, particularly in the early days of the health crisis when every smudged surface looked like it could be a potential vector for infection. Things have calmed down some, but disinfecting wipes and sprays are still in high demand. The unfortunate downside has been a ton of empty, plastic bottles and containers that will likely end up in a landfill.
Enter Cleancult, a newcomer to the market, with a unique point of differentiation. They deliver soaps, cleaning solutions, laundry detergent, and the like right to your door, and unlike most of their competitors, almost no plastics are involved at all. When you sign up, you get a shatter-proof glass dispenser and the refills come in recyclable cardboard containers.
Likewise, by Humankind, another recent player, is attempting to do away with single-use plastics for an even larger range of health, hygiene, and cleanliness products. Everything from deodorant and hand soaps to floss and mouthwash is made without plastic. Even their cotton swabs are 100-percent biodegradable. It's the right product at the right time and designed to appeal to the health and eco-conscious alike.
Adidas Mushroom Leather
Mushrooms aren't just for the dinner table anymore. They are being powdered and sold as brain-boosting coffee alternatives, added to lotions and serums for healthier skin, and even being bioengineered into cruelty-free, vegan leather products. According to Grand View Research, as consumers increasingly look for more natural, less polluting, and more sustainable solutions, the market for mushroom products is growing fast and will be valued at $50 billion by 2025.
Two big brands from the world of athletic gear and high fashion are among the first to experiment with mushroom-based materials. Adidas recently launched the Stan Smith Mylo, a variant of one of their most classic sneaker styles, but with innovative and renewable mushroom leather accents for the heel tab overlay, branding, and their iconic three stripes.
Developed by biotech company Bolt Threads, Mylo is a proprietary (and branded) material grown in labs from mycelium (mushroom roots). The finished product is foamy and durable and can be finished with embossing, and which, according to Jamie Bainbridge, the vice president of product development at Bolt Threads, flexes and breathes just like traditional animal leathers.
"The planet can't go on the way it has been," said Jamie Bainbridge. "You're seeing it in every subject matter around sustainability—whether it's climate change or carbon footprint—the public is gaining an understanding that they've got to change their ways."
Along with Adidas, fashion designer Stella McCartney, an early pioneer in ethical, cruelty-free fashion, has joined Bolt Threads' Mylo consortium and intends to use their material in her product lines. Lululemon and Kering (the French luxury group that owns Yves Saint Laurent and Gucci) have also signed up.
Other fashion houses and brands are also pursuing alternative, sustainable materials. Hermès recently released a handbag made from reishi fine mycelium. Eco-friendly shoemaker Allbirds announced they have their own sustainable faux leather in the works made with rubber tree sap.
Traditional animal leathers consume massive amounts of resources and require harsh compounds to produce. Plastic-based faux leather is virtually always made from non-renewable petrochemicals. Mycelium-based textiles present an opportunity for the fashion industry — which has been feeling the heat lately for the wastage associated with the disposable "fast fashion" trend — to deliver goods that are still incredibly high quality but that better align with the environmentally-friendly values of modern consumers.
Levi's SecondHand and WaterLess
The three R's of sustainability are Reduce, Reuse, and Recycle. To lessen its environmental impact Levi's is focusing on that sometimes underappreciated second R. Maybe it's really because they know that an already broken-in pair of jeans are a wonderful thing, but the brand introduced its SecondHand Collection of pre-worn, vintage threads along with a "Buy Better, Wear Longer" sustainability campaign just in time for Earth Day.
"Ultimately, Levi's denim is meant to be worn for generations, not seasons," Jennifer Sey, Levi's Brand President, said. "So we are also using this campaign to encourage consumers to be more intentional about their apparel choices: to wear each item longer, for example, to buy SecondHand, or to use our in-store Tailor Shops to extend the life of their garments."
Levi's tapped influencers like Jaden Smith to promote the initiative: "The world we live in encourages us to constantly buy," Jaden said. "It puts us in this bad cycle. I'm glad that Levi's is changing that message by making thrifting cool. Some of my favorite pairs are thrifted. And I'm even more happy to see that Levi's is supporting these amazing young voices who are all speaking up for the environment."
Levi's has also been using this opportunity to tout its WaterLess method of finishing jeans that softens up tough fabrics by tumbling them with bottle caps and golf balls instead of using water-wasting washing machines like they had in the past.
The Future is Sustainable
Almost across demographics, but especially among the younger Gen Y and Z cohorts, there is increased demand for sustainable goods and lifestyles. The brands that are authentically speaking to environmental issues and taking positive action to change our world for the better are top of mind among consumers and winning new brand loyalists far faster than their less eco-conscious competitors.
Brands that intend to compete in the market that is coming are well-advised to continue making decisions that show their commitment to a healthier, more sustainable world.
Gigasavvy works at the forefront of the purpose-driven branding revolution. Ask us about our Brand Strategy Consulting to learn how we can help develop and launch your organization's brand strategy. And if you want to stay up to date with the latest on sustainable design and artivism check out our Instagram Guide.