Next week, Gigasavvy is hosting a special panel event for the Harvard Business School Association of Orange County. Join us at the Gigasavvy offices on Thursday, November 19th at 7:00 am to hear how the agency founders developed a unique company culture to drive creativity.
To get tickets to this special event, click here.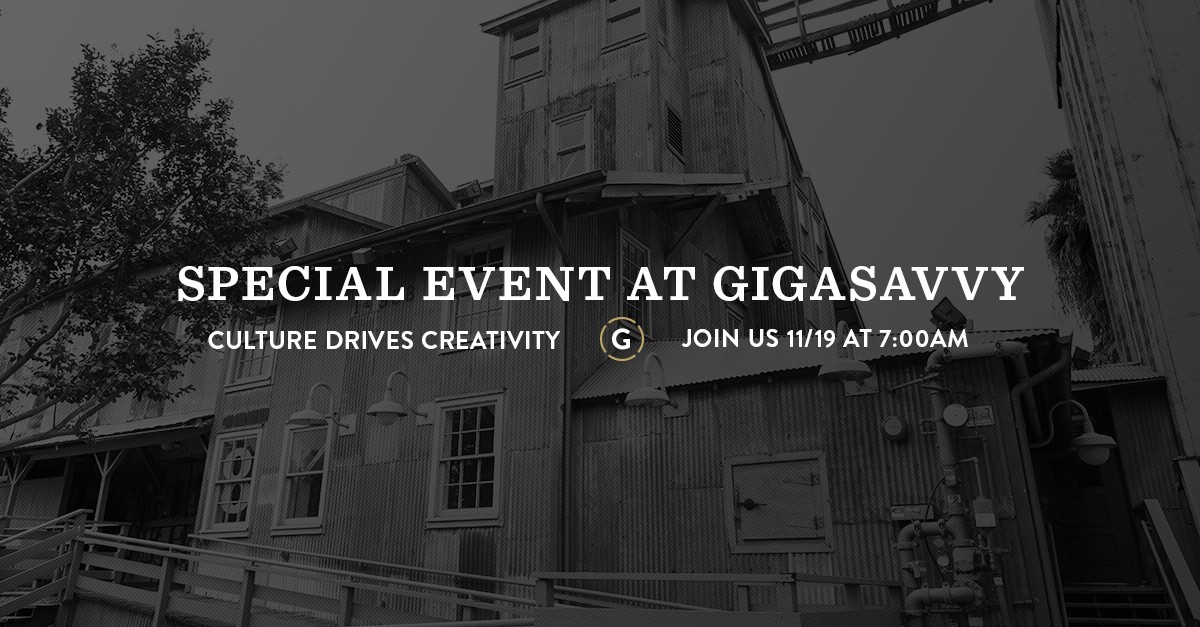 We Are Gigasavvy
Gigasavvy was founded in 2008 on the principles of creativity, experience, passion, and integrity. In a time when businesses downsized or closed altogether due to the rough recession, the primordial soup of Gigasavvy came together. Born out of a merger of equals, our founding partners knew they wanted to create something different. But to be different you must do things differently. Our agency founders knew that creativity would be the key to a truly different way of thinking and working. But how do you cultivate creativity? Knowing Gigasavvy has that formula down to a science, the Harvard Business School Association of Orange County asked our agency founders to answer this important question in a very special event.
Creativity is at our core and drives everything we do. So what is it that nurtures our creativity? Our culture. Our team is a tight-knit group of 30+ marketers who live and breathe what we do with an unrivaled passion that shines through in the work we create for our clients. Gigasavvy's growing list of clients includes Knott's Berry Farm, Toshiba Latin America, Johnny Rockets, Custom Comfort Mattress, Molina Healthcare, and many more across a wide variety of industries.
Event Panel Speakers
For our panel event, hear from agency founders Joel Tanner, Corey Mangold, Kyle Johnston, and Sven Johnston.
Joel Tanner is one of Gigasavvy's Principals and Co-Founders. He has been a technology tinkerer and entrepreneur since the age of 12. With over 20 years of industry experience, he continues to develop, test, and prove techniques to help the team and our clients succeed, keeping his hands in most everything that goes on at the agency.
Corey Mangold also brings over 20 years of experience to the Gigasavvy team. As a Principal and Co-Founder, Corey leads the creative marketing, branding, web development, and app development at Gigasavvy. His expertise includes traditional and online marketing, color theory, Web usability, eCommerce, search engine marketing, and application development. He also plays a mean game of foosball. 
Kyle Johnston was Gigasavvy's first employee in 2009. As Vice President of Marketing, Kyle leads marketing strategy. He also plays an integral part of maintaining communication between our team and our clients. With his expert leadership, we can ensure all clients receive the best possible outcomes.
Sven Johnston is Gigasavvy's Senior Vice President and employee number 2. Sven has 20 years of extensive business development experience all over the globe in the U.S., South Africa, Germany, and Australia. He is the man responsible for attracting many Gigasavvy clients, such as Knott's Berry Farm, Molina Healthcare, Johnny Rockets, and Jim Carrey's Better U Foundation.
Join Us for the Panel
Find out what makes the Gigasavvy team culture tick. What is it that makes our culture so special? Hear straight from our agency founders. Beyond throwing fun parties (although that doesn't hurt) we produce the kind of results we are proud to create. Join us at Gigasavvy's office in Irvine on Thursday, November 19th at 7:00 am for this unique event.
Tickets to this event are available, click here.