A newcomer has disrupted the social media landscape. How can brands get in on the fun while minimizing risks?
In the modern digital economy, growth is prized above almost all else. Investors, advertisers, brands, and users all want to be associated with the next big thing.
While TikTok can't match Facebook's massive reach, Mark Zuckerberg is unquestionably envious of the Chinese-owned app's eye-watering growth figures. In 2020, TikTok broke 100 million active daily users and saw overall user growth top 85.3-percent in the U.S., and we weren't alone. 12 of the 13 countries eMarketer studied saw similar growth rates in the high double to low triple digits.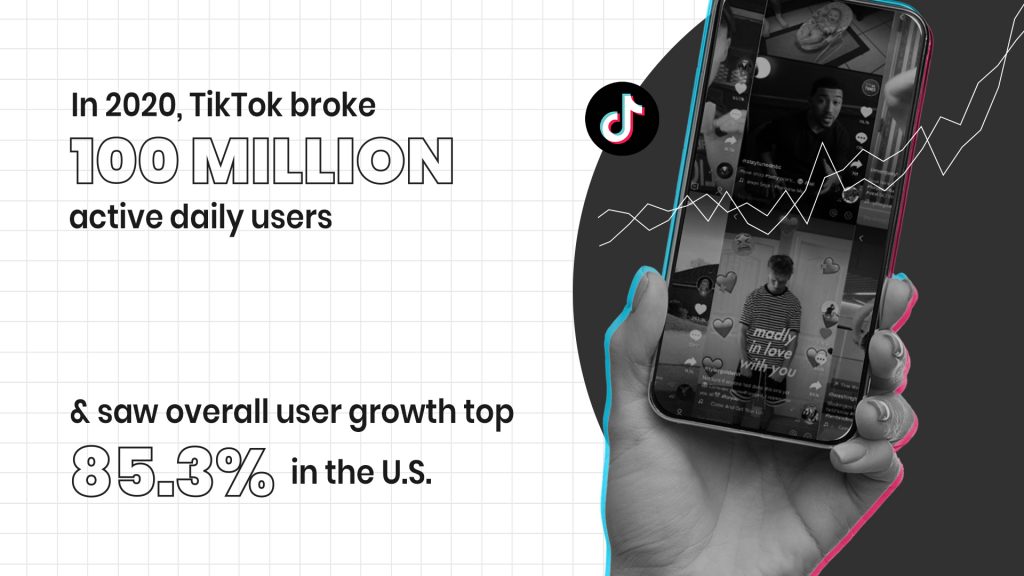 TikTok will clearly play a big role in the year to come. The question is, how are brands strategically leveraging its unique advantages while avoiding the pitfalls of a still new and somewhat unpredictable social network?
What's in the Secret Sauce?
As rumors of an acquisition by Microsoft swirled in late 2020, analysts debated whether TikTok's value was its brand and the youthful demo that was flocking to it, or their highly effective, and mostly secret algorithm — which is uncannily good at figuring out what a user wants and delivering it to them.
The deal never went through, and the details of TikTok's algorithm remain a mystery, but what we do know is that unlike for example Google or Facebook, which have huge repositories of demographic and behavioral data (much of it submitted voluntarily by the users themselves) for optimizing user experiences and targeting outreach, TikTok feeds three main inputs into its algorithm:
Computer Vision: Optical detection of scene elements (e.g. "girl in sneakers dancing outside")
Natural Language Processing (NLP): Audio portions of videos are transcribed and then analyzed for keywords, tone, and general meaning
Metadata: Uploaded file names, hashtags, and other user-entered descriptions and comments
What happens in the black box when all that information is analyzed is anyone's guess, but what comes out, is a user experience that is nothing short of addictive.
Business consultants and futurists have been foretelling of this day for years. Machine learning is finally enabling personalized content delivery at scale in the real world. And also as predicted, users prefer their experience personalized. They like seeing things that interest them, connect to their lives, appeal to their sensibilities, and speak their language.
Risk Management
Investing in TikTok is not without its risks. For one thing, numerous countries (including the U.S.) have threatened to ban it on more than one occasion. India, one of the largest and most active TikTok user bases in the world, just implemented a complete ban of the app over a border dispute with China.
The U.S. ban, which reportedly had to do with foreign censorship and user privacy concerns, never went into effect (and a forced sale to an American company also never happened), and though its status stateside is still in limbo, it does appear the immediate risk of a nationwide ban has passed.
From a brand-safety perspective, advertisers are demanding active moderation and transparency as to content standards. Brands courting a youth demographic are particularly cautious about the content they produce, share, and comment on.
They'd also like more clarity as to whether TikTok is censoring content that is critical of Chinese interests. For its part, TikTok claims it only withholds promotion from content they deem as inappropriately shocking or spam.
What's clear is that, whether it's domestic or foreign-based, the honeymoon period with social media has passed. The vulnerabilities are now as apparent as the opportunities. The benefits of engaging with new communities and channels, however, still outweigh the risks for most.
Never Waste Virality
For some brands, the biggest risk associated with TikTok is failing to leverage it when opportunities arise. Paint purveyor Sherwin-Williams learned that lesson the hard way after finding itself ridiculed for firing a young employee that was producing hypnotizing TikTok videos of paint being mixed.
"They sent a signal, as loud as it was unintentional, that employees who do what they're told are more valuable than employees who think outside the box," PR executive Andrew Cross told Adweek. "They've unintentionally stifled employee ingenuity."
@tonesterpaint's 1.6 million followers were outraged. Many chastised Sherwin-Williams and questioned why they hadn't instead partnered with him, like Ocean Spray did when a skateboarder named Dogface went viral lip-syncing Fleetwood Mac while drinking one of their juices.
Standout Moments
2020 was a breakout year for TikTok because it afforded an incredible opportunity for brands to not just speak to their audience, but interact and have fun with them. Some of the most popular such trends right now include: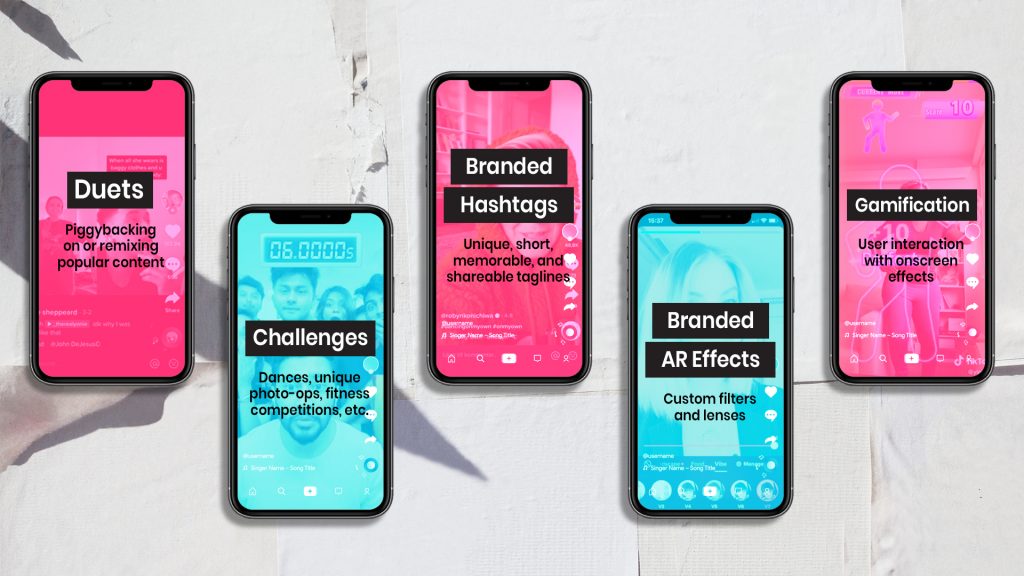 Here are several brands that strategically exploited the platform with inventive, co-creative, and inherently viral experiences:
Beats By Dre
One of the most successful TikTok brand activations in 2020 was the branded hashtag challenge, where brands ask their followers to perform a certain task and then post their experience online with an associated hashtag.
To launch a new line of summer colors for their headphones, Beats by Dre partnered with rapper and influencer Ashnikko who asked her 1.9 million followers to collaborate on a series of videos based on each color and tagged with #BeatsDaisyChallenge. The campaign netted 7.1 billion views and 460 million engagements.
We've teamed up with @ashnikko to create a colorful video for her new track "Daisy."
Tap in to join the #BeatsDaisyChallenge on TikTok. https://t.co/zUjfNlAarA pic.twitter.com/GigR9oF2hR

— Beats by Dre (@beatsbydre) July 13, 2020
Dunkin'
McDonald's is serving up combo meals the way rapper Travis Scott and reggaeton star J Balvin like them, and Chipotle offers a Shawn Mendes bowl. But Dunkin' has plans to feature some less well-known fans of their menu.
It's asking brand fans to share their favorite food hacks, inventive combinations of their menu items like "Maddie's Hack," a bagel with cream cheese, hash browns, and Snackin' Bacon, and tag their post to TikTok with #DunkinMenuHackContest. Three winners will have their creations featured on menus nationwide.
Ray-Ban
In response to advertiser demand, TikTok's Creative Lab launched a gamified branded effect feature in the summer of 2020. Sunglass maker Ray-Ban was one the first brands to go viral with an augmented reality TikTok element that allowed users to directly interact with on-screen branded elements. Users donned a virtual pair of shades and used their own eyebrows as paddles in a game of virtual pinball.
Street Grace
If you think TikTok is only about entertainment and commerce, take a look at the good works an Atlanta-based nonprofit is doing on the platform.
To combat child sex trafficking, Street Grace created a TikTok account called the Help Locker, which debunks misinformation about trafficking and serves as a sounding board and source of education for teens and others looking for help or guidance related to this sensitive issue. The account has generated 150,000 followers and over 3 million likes.
Why Brands Are So Interested
Simply put, TikTok offers better access to young demographics than just about any other digital platform today. Plus, the engagement figures are through the roof. Instagram is bleeding users to TikTok, and that trend will likely continue.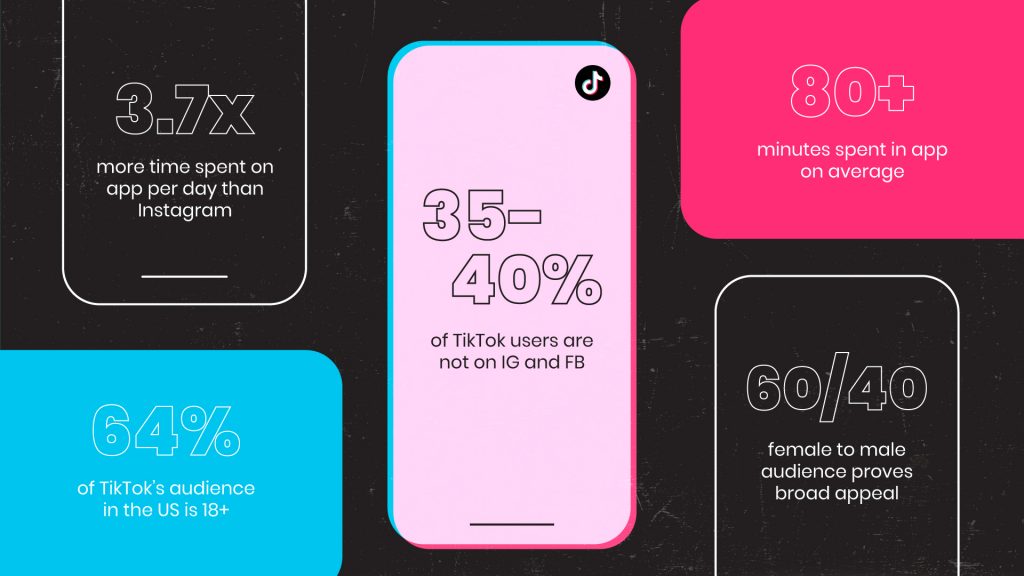 Additionally, whereas Instagram is designed to keep users connected to people they already know and follow, TikTok is optimized to show content that its algorithm think's they'll enjoy, regardless of whether they have been exposed to it before.
Because viral content is optimized and discovery is baked into the platform, TikTok is far more likely to elevate small content creators than Instagram.
Speak Your Audience's Language
Marshall McLuhan, one of the fathers of modern media theory, was the first to assert that "the medium is the message." The context, in other words, is communicating as loudly as the content, and TikTok's medium is fast, fun, new, young, experimental, mobile, and ephemeral.
With the reach and effect of paid media gradually diminishing with young audiences, TikTok is an opportunity to connect with them where they are, in the medium they are most comfortable with.
TikTok for Brands Roudtable
Can't get enough TikTok? Check out our recent roundtable discussion centered around the business case for TikTok and how brands can leverage this technology to create campaigns that engage consumers in new and exciting ways.
Ready to dive into the TikTok universe? Get in touch with us today to begin crafting your own brand experience on TikTok.