Gigasavvy Brand Bowl: Our Favorite Brands Reimagined As Football Teams
The Big Game is over, Tom Brady proved beyond a shadow of a doubt that he's the GOAT, and you've probably seen every Super Bowl ad a dozen times already. Like clockwork, everyone is sharing their favorite ads of the season, but the big story this year centered around brands like Budweiser, Pepsi, and Coke, which chose to sit on the sidelines while also using their reach to raise awareness for the COVID-19 Vaccine. These circumstances have left the door open for challenger brands like Fiverr and Vroom to make bold a statement and reach new audiences.
While everything felt a bit different this year, there were still a handful of the usual star-studded affairs featuring Timothée Chalmette and Winona Ryder (Cadillac Lyriq), Matthew McConaughey (Doritos), Jason Alexander (Tide), and Drake (State Farm). That's what got Gigasavvy's creative team thinking, "What if we flipped the expected on its head; what might that look like?" And the Gigasavvy Brand Bowl was born.
HI-CHEW Unicorns
HI-CHEW is a candy that is not only known for being unique but stands for the greater good of encouraging others to embrace their own uniqueness. It's ok to be different and dance to the beat of your own drum. It's all about being confident with who you are. The unicorn is exactly that. It embodies the idea of being unique and different with an entire rainbow of confidence. So let's agree to be ourselves, and we'll be champions no matter what.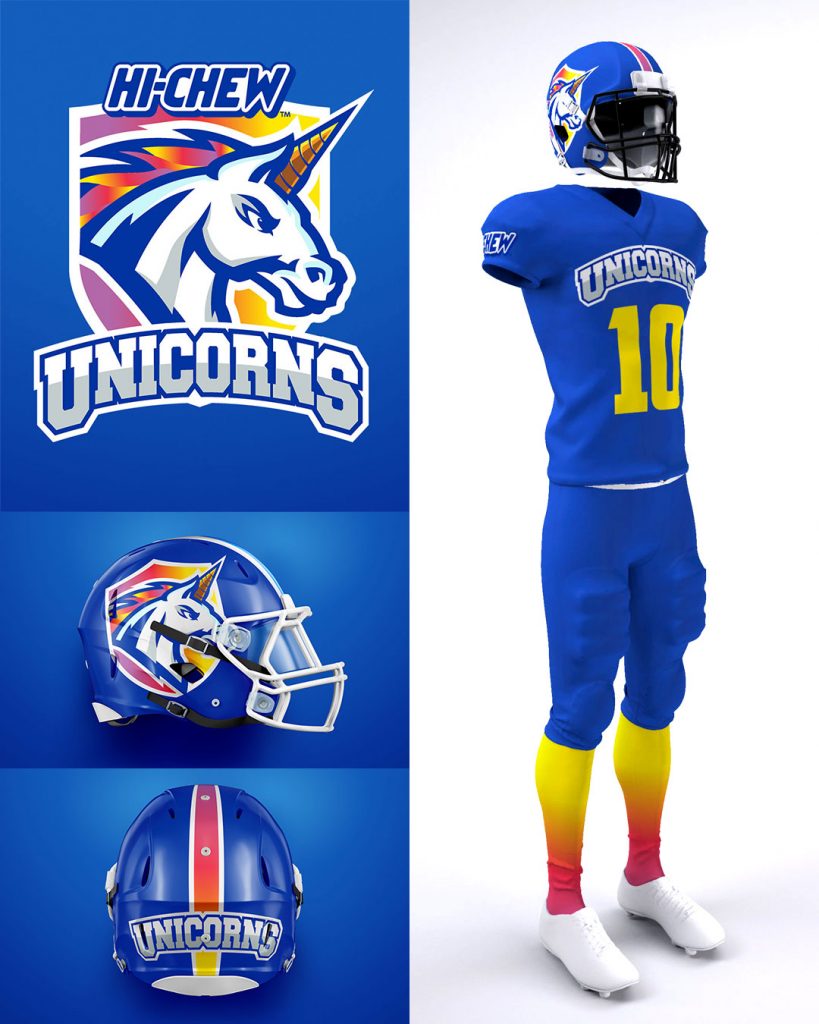 Oi Guardians
This creative iteration displays Mother Nature as Oi's Super Bowl team mascot in a fun, modern way. The greens and topography lines call back to the earth, while the black lines make a bold statement.
Oi has a world-focused mindset when it comes to their company values and goals, and I wanted to display that here as well. Our earth and our womanhood are worth guarding and protecting, and we can only succeed when we come together and defend them as a team.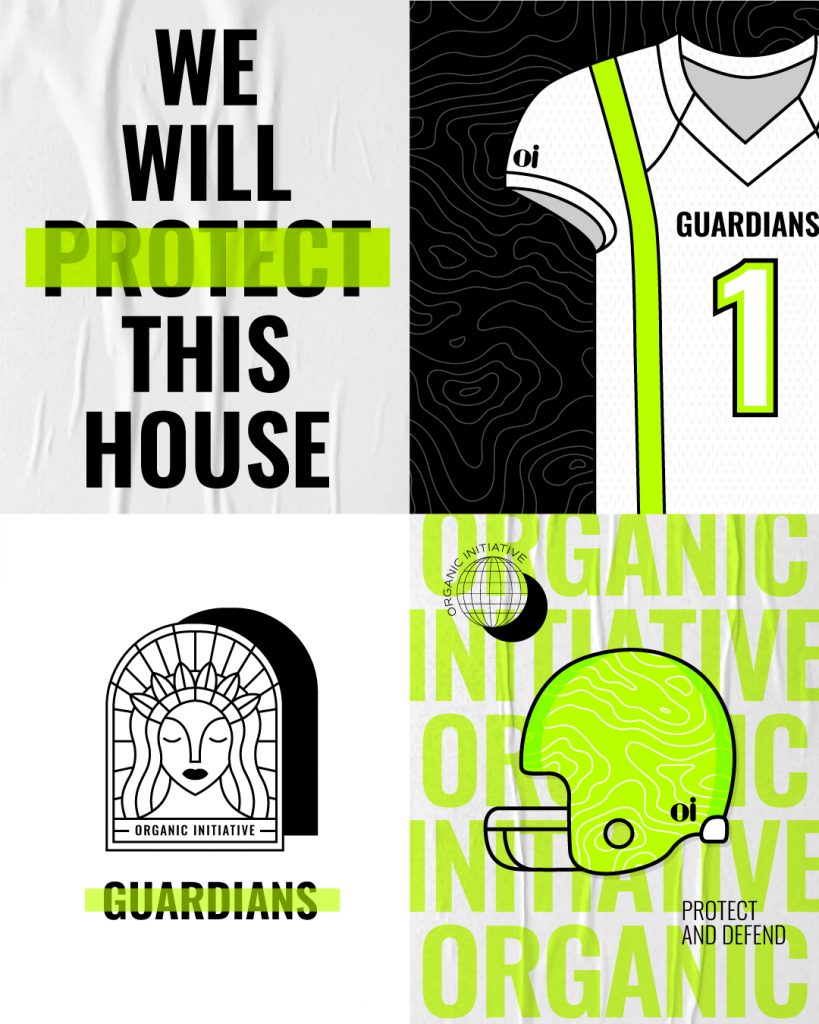 Nationwide Eagles
Focusing on "Nationwide Pride", this creative execution gives off a sense of protection and security. The logo takes the form of a family crest – which symbolizes the shield of protection around Nationwide Pet customers. The Nationwide eagle has been redesigned with its wings wide, to show how wide its protection extends – Nationwide! This sense of security allows the team to feel free and victorious!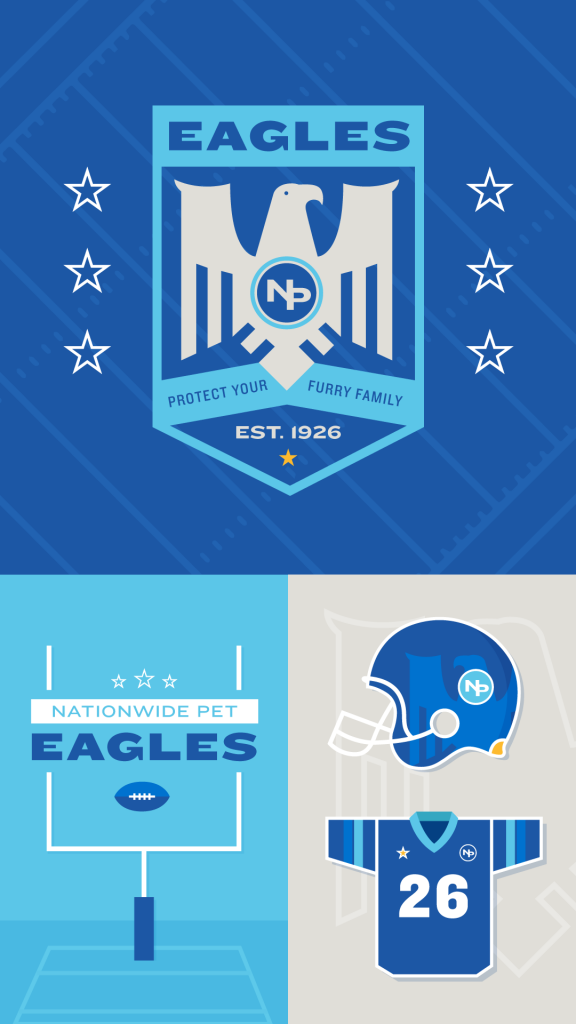 Flame Broiler Flames
With the Flame Broiler Flames, we really wanted to capture the magic of Flame Broiler and what it stands for as a brand, which is a quick and easy way to eat "Simply Healthy". To do so, we started with a very simple, minimalistic geometric illustration style, bringing to life Flame Broilers bold branding with a fun and edgy SoCal flair.
The Flame Broiler Flames bring the heat every time they step out onto the field, with their superior defense and an offense that is Simply Magic! This Southern California based team never fails to delight with a healthy dose of style and flair that always leaves their fans feeling satisfied.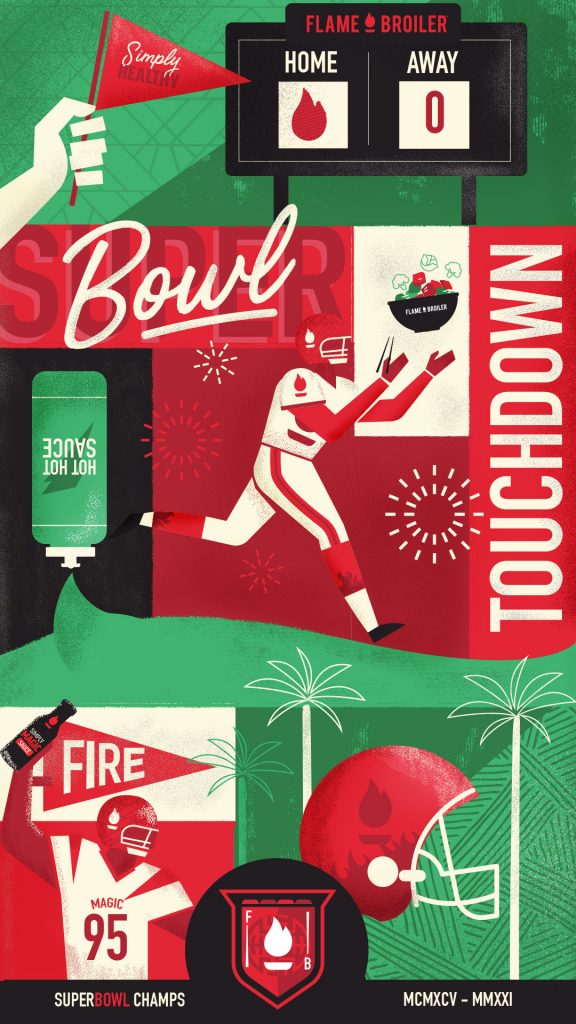 Building Your Brand Begins With Strategy
Gigasavvy specializes in marketing and advertising across digital and traditional platforms that elicits an emotional response from our audiences, resulting in a lasting change in perception and behavior. We believe that inspiring authentic human connections is a brand's best path to loyalty, sustainability, and bottom-line results. To accomplish this, Gigasavvy has built a multidisciplinary team of experts that work in collaboration, leveraging their respective skills to help brands read between the lines of data and deliver memorable brand experiences that connect decision-makers to brands by accessing their core human truth. Our combination of strategic, creative, and technical disciplines empowers us to help brands navigate the complex business challenges that arise in a rapidly evolving marketplace. Get in touch today to learn how partnering with Gigasavvy will keep your brand ahead of the competition.